Polyethylene disposable gloves are available in wrist, elbow, and shoulder lengths. Lightly powdered, medical-grade examination gloves are available in vinyl and latex. We also offer heavy latex gloves of mid-arm length for use in high-risk areas. Our product line includes latex dishwasher gloves, cotton inspector's gloves, white dress gloves for catering, and string knit gloves.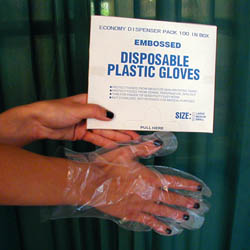 Plastic Gloves(#901)
Polyethylene: clear; embossed,1-mil.
Size:
Amount:
Price:
$6.99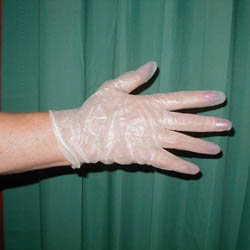 Vinyl Gloves (#903I)
Vinyl Gloves; 3 Sizes
Size:
Amount:
Price:
$6.99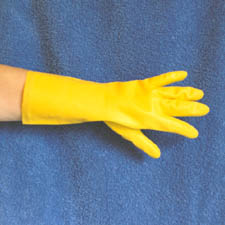 Dishwashing Gloves (#2312)
Dishwasher Gloves: flock-lined; S, M, L, XL; yellow; 22 mil.; 12" long; 1 pr./bag
Price: $0.80 per pair
Price: $6.90 for 12 pairs
Price: $79.35 for 12 dozen pairs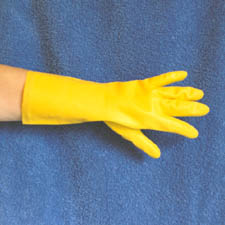 Dishwashing Gloves (#3312)
Dishwasher Gloves: flock-lined; S, M, L, XL; yellow; 18 mil.; 12" long; 1 pr./bag
Price: $0.75 per pair
Price: $6.50 for 12 pairs
Price: $74.50 for 12 dozen pairs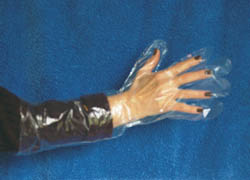 Plastic Elbow Gloves (#902)
Polyethylene Elbow Length Gloves: clear; embossed; unisize
Amount:
Price:
$4.99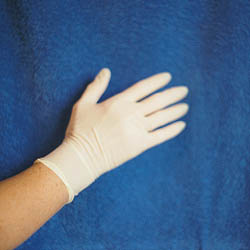 Latex Gloves (#904I)
Latex Gloves; 3 Sizes
Size:
Amount:
Price:
$6.99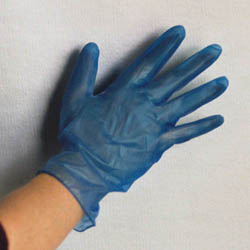 Nitrile Gloves (#332)
Nitrile Gloves: blue; S, M, L
Price: $9.99 for a bag of 100
Price: $82.99 for a case of 1000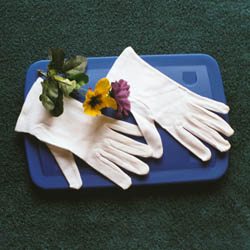 Cotton Gloves (#9205F)
Cotton Knit Gloves: hemmed; white; unisize
Price: $18.00 for 12 pairs